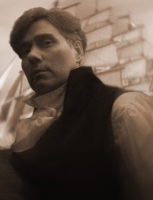 Biographical Information:
Pahl Hluchan studied animation at Rhode Island School of Design. After graduating he worked in video production for five years. He also acted as art director and head puppet designer on a series of childrens' programs.

In ninety-two he left video to study painting at Yale University. He was awarded the George R. Bunker Prize for excellence in painting and printmaking. Since graduating Yale he taught at Southern Connecticut State University, Savannah College of Art and Design and University of the Arts. He is currently the head of Animation at the Delaware College of Art and Design.
Presently he works both as a painter and an animator. He has been in many national juried exhibitions. His paintings have been published in Harpers Magazine, Art Alternative Magazine and the Artist Magazine. He was awarded a Delaware Division of the Arts individual artist fellowship in 2008. His animation won first and second prize in the Newark Film Festival commercial competition in 2009 and 2010.